It's hard to believe that this little buddy of mine will be heading off to four day preschool on Monday!
That's a big jump from the two day class he attended last year. But, he is my laid back, go-with-the-flow kinda kid, so I know the transition won't phase him too much. And the fact that he's been watching his big brother head off to school each morning for weeks now, has him definitely excited to do the same! Mommy, on the other hand, will just be forced to deal with it and keep busy with the other mischievous little sweetie running around here. I'm sure she won't make that too hard!
With Justin's new school year on the horizon, I thought I'd better get to sharing the page I put together documenting his first day of school from the 2012-2013 school year. I put this page together back in the springtime, after I snagged some of Doodlebug's colorful and office-themed line 'Take Note'.
;
Supplies used: Doodlebug Designs - patterned paper, Doodlepop sticker, buttons (star shaped), cardstock (yellow); Crate Paper - brad (blue fabric); KI Memories - stamps (smiley, 'through the lens', numbers), chipboard star; Stampin' Up - stamps ('first day of school', alphabet), ink (yellow); American Crafts - cardstock (kraft background), date stamp; Pebbles - ribbon; My Mind's Eye - enamel dots; Queen & Co - washi tape; Simple Stories - label stickers; Heidi Swapp - journaling spot; Veteran Typewriter font; Memories - black ink; Other: binder clip, crochet thread.
What's a page about school without some actual school-type supplies?! I've had this little blue binder clip in my stash for years and knew it would be the perfect accent for this page. Speaking of 'older supplies', do you recognize anything else in this picture that may have been sitting in my stash for a bit of time? I, in fact, spy two things - the chipboard star is from an old KI Memories school collection, and the little 'today' paper is a journaling pad from a Heidi Swapp collection I picked up many moons ago! Anybody remember either of those? Sometimes it's fun to mix the new with the old!
I have been adding these Simple Stories SNAP labels to just about everything that crosses my scrap desk lately. They are just the perfect size and colors to fit in just about anywhere. And as you can see here, I'm having fun stamping on them, as well!
My very favorite piece of patterned paper from the Doodlebug Take Note collection was definitely the 'Ditto Dots' double sided paper, as seen here: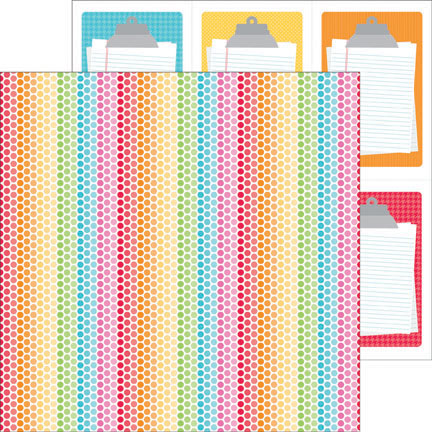 I immediately feel in love with those sweet little clipboards and knew that they would make a great spot for journaling and possibly even help to add an interactive element to my page.
I was right! I simply selected and trimmed out one of the clipboards to use as my base, then trimmed around only the clasp and paper of a second clipboard to layer over top of the first. Once attached, just at the top, it allows the 'paper' on the clipboard to flip up, just as it would on a real clipboard, and reveal additional journaling. Kind of fun, huh?!
Thanks for stopping by today! If I can get through Monday with another of my littles off to school, I'll be back with some more crafty things to share! Wish me luck (and not too many tears!).